Welcome to the Year 2 page.
In Year 2 this year, our teachers are Mrs Ruddick, Mr Mortimer and Mrs Buckley. Also part of our team are Mrs Lake, Mrs Ling and Mrs Hoskins. Jackie, our reading mentor, will continue to work with children on Tuesday and Thursday mornings.
Our aim in Year 2 is to support the children to become independent enquirers with the confidence to have a go, make mistakes, reflect and learn in a meaningful way. We enjoy lots of questioning and discussion between children, their peers and the adults in school. See below for details of the things we're learning in Year 2.
The Day the Classroom Quit.
In English, we've been learning about writing letters. We loved the book The Day the Crayons Quit by Drew Daywalt and decided to make our own called The Day the Classroom Quit.
The children chose classroom objects, gave them faces and decided what they might complain about. We explored how to use our class thesaurus to express emotions and then the children wrote their own letters.
Computing
The children have been learning to create and test programs. They had to get their animal to a particular space on their map.
After a few goes, they were soon able to debug errors in a program and write their own with multiple steps.
Design Technology
We wanted to make an animal with moving parts. We set the children a challenge to make legs for their predator with different types of joining. They explored different types of joining and selected the most effective resources. They decided that treasury tags, string or split pins were the best.
Science - Habitats
The children have been learning a lot about animals. They learned what makes something a living thing and then classified animals by their features. We looked at predators and prey and the difference between their teeth. We learned how animals are suited to their habitats and linked this with camouflage. They worked in pairs to design a habitat where the animal used camouflage. Some camouflaged to hide from predators and others used it to sneak up on their prey. Can you spot any of the animals hiding in the habitats below?
Fire Service Visit
On Friday, a lady from the Fire Service Education team visited to talk to the year 2s about fire safety. The children learned a lot about what to do in an emergency and were all intent on going home and checking their smoke alarms work. They loved dressing up in fire fighter gear!
Barnstaple Library Visit
At Pilton Infants' School we work hard to promote a love of reading through inviting book areas, regular spending on new books, shared stories and quiet reading time. What better way to encourage children to read than to sign them up to our town library? 69 children across the school took part in the town library's Summer Reading Challenge but we want to beat that target next summer.
Some children were already members and brought their cards along but we also managed to get 20 children signed up with their own membership! We had a tour of the library and then time to browse. The children loved exploring the range of fiction, non-fiction, picture books, comics and puppets. It was hard to persuade them that it was time to go back to school. The children borrowed books and are looking forward to returning with their families soon.
Year 2 Eid party
The Year 2s have been learning about different places of worship. We visited St Mary's Church in Pilton and had a talk from Nigel, the vicar there. Back at school the children learned about mosques. To end the topic we threw a party for Eid. One of our Mums sent in a traditional Eid dessert for us all to try. Some of our children shared their own experiences of how they celebrate Eid at home or away with family and friends. Then we had lots of fun and games together. It was great fun!
Outdoor week
During SATs week, the children enjoy a range of activities outside. This year, they learned about the artist Andy Goldsworthy and worked together to create their own. They carried out team challenges on our trim trail and helped paint the fence with an important message about plastic in the ocean (more pics to follow as we're not quite finished yet!) The fun was interrupted by a few quick 'quizzes' and you can see from the pictures below that the children had a great time!
Local History and Geography
The year 2s have been learning about our local area. They've learned about our local rivers and why new settlements were often next to a river. They've also learned about map reading and giving directions. Today we combined these skills with a history walk around Pilton. The children had to use the map to direct their adult to the next place where they learned interesting facts. Here are some of the things they learned.
" It was sad when we saw the gravestone with 8 children who died before their parents. It's because they didn't have injections when they were babies like we have now, so they died from diseases." Finlay
"I know that they put their poorly arms in the well [Ladywell] because they thought it would make them better." Leo
"I told my Mum that the church hall used to be a pub called The Unicorn!" Erin.
Home Learning
Over the weekend, the children were given some home learning relating to our Geography topic on our local rivers. They were asked to visit the River Yeo or Taw and write, draw or talk about what they'd seen. We had a brilliant response with art work, photos, fact files and a powerpoint presentation.
The children learned about a poem called The Sea Is... In English, we found out lots of information about rivers so we could write our own The River Is... Lots of children went home and wrote their own poems along these lines. We've put them together in a class poetry book in class. There are some examples of these below.
Geography
Our Arts week was linked to India. During the week, lots of our staff members and children brought in interesting things to show us. Mrs Lake brought in her sitar, some children showed us a singing bowl from Darjeeling and mendhi patterns. We also had a great talk from one of our children and her Mum about Pakistan which is next to India. We learned a lot and enjoyed celebrating our cultural differences and similarities!
Arts Week
During Arts week we were luckily enough to have a dance company come in and teach us some Indian dance. We also invited the children back to school one evening to enjoy some Indian food they had prepared during the day. They tucked into veggie curry, poppadoms, samosas and rice. We had so much fun!
Design Technology
This term in DT, the children have explored different way to join materials to create moving parts. They had a team challenge where they had to make a dinosaur with moving parts using cardboard and a range of resources such as tape, paperclips, treasury tags and split pins. They had to work together to create a dinosaur, then we evaluated which worked best.
From there we explored different types of moving parts, such as pivots and sliders and the children designed, planned and made their own Christmas cards with moving parts.
We learned that some famous designers like James Dyson, made thousands of prototypes before having success.
You can see a few parts of this process below:
Dino Fun
This week, the toy dinosaurs disappeared. We started to get letters from them and pictures of all the mayhem they were causing round the school. The children wrote letters to try and persuade them to return but so far, nothing's worked. Next week, they're going to design and label their own dino traps. In the meantime, keep your eyes peeled for them!
Dino Day - October 2018
As part of Dino Day, we enjoyed a morning of activities such as making fossils, creating dinosaur skeletons, constructing dinosaur models and drawing ammonites.
In the afternoon, we went to the theatre in Barnstaple to watch Dinoworld Live. It was an amazing experience and some of the children got to go on stage and meet the puppets. Here are some pictures:
Knight of the Year
The children in Year 2 recently received a scroll from Lord Richard of Barnstaple because he had heard that they were learning about William the Conqueror, the Bayeux Tapestry and having Knight of the Year competition. He told the children that to be knights they needed to be brave, strong, good at PE, artistic and have a good sense of humour. He challenged them to write a letter each to persuade him that they could be knights, although he didn't think any would be suitable, particularly the girls.
Well, what a shock Lord Richard had when he received the letters. Every child managed to persuade him that they were worthy of being knights. Nine children were given honourable mentions. There could only be one Knight of the Year for each class however, and the two children chosen were Kayla (Class 3) and Charlie (Class 6). Congratulations!
Rosemoor Trip
The children have been studying colour and shape in Art so we made colour strips and explored all the different petal shapes we could find. In our workshop we learned about the work of artists like RIchard Long and Andy Goldsworthy who make natural sculptures. Then we went to the woods and made our own. See the results below:
The Bayeux Tapestry.
As part of our topic on Kings and Queens, we've been learning about the links between William the Conqueror and Barnstaple (he ordered Barnstaple Castle to be build in 1068).
We went on a history walk with local historian Tom and learned the story of the Bayeux Tapestry. The children chose their favourite part to write, painting pictures and then we embroidered the story too. See below for some of the work on this topic.
China Day
To celebrate Chinese New Year, the Year 2 children came back to school for the evening. They enjoyed eating the spring rolls they'd made during the day, along with noodles, fortune cookies and jasmine tea. They also made lanterns and dragon masks. Earlier in the day, they learned about Chinese inventions and were amazed when we made a huge timeline along the playground and looked at how long ago the Terracotta warriors were built and the plough was invented! See below for some of their attempts to use chopsticks!
Drama
We learned about the Willow Pattern story and the poem version by Tony Mitton. The children thought about each part of the story and how the characters would feel, then created tableaus to show these scenes. Here are some of the scenes below:
We've been learning all about China and were interested in how their number system worked. Teen numbers are much easier to understand in China! After our maths lesson, the children practised water calligraphy on the playground.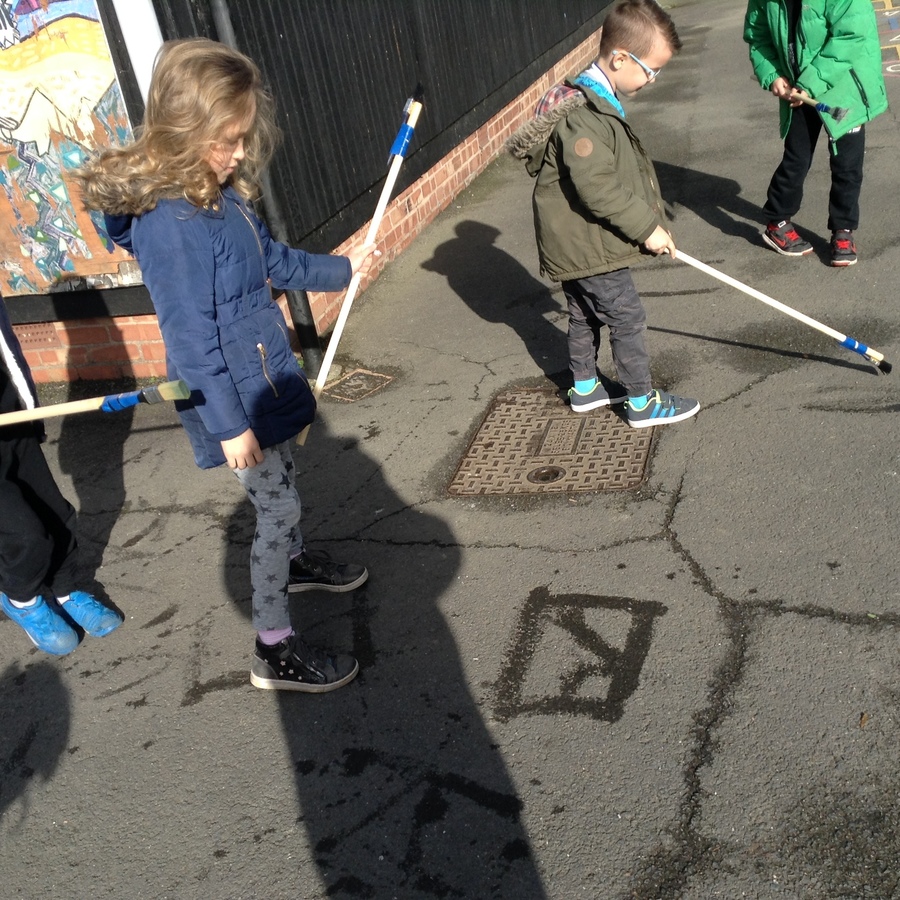 Design Technology Challenge
As part of our topic on China, we've been learning about the Great Wall of China and some of the famous bridges there. In DT, we had a challenge to build a free standing bridge that could span 20cm and hold a weight of 100g. The children had scrap paper, masking tape, lollipop sticks and paperclips.
The children worked in teams to build bridges and then we tested them. The first time we tried, only 13% of the bridges held the weight. We learned about how strong and stable triangles are in construction and the children planned and built new improved bridges. This time 90% held the weight. Move over Brunel!
Remembrance Day
We attended the Children's Remembrance service in Rock Park. Here are two of our children's whose Dads are in the forces, carrying the wreath to the memorial.
Superhero Day
Today we came to school dressed as heroes. Some children came as superheroes, others came as real life heroes, for example, soldiers and nurses. We learned about bats and their special powers of flight and echolocation.
Real Heroes
As part of our topic on Superheroes, we've been learning about some real life heroes. Here we are learning about the role of lifeguards and the Fire Service and how to stay safe at the beach and at home.
Pirate Day
The children enjoyed a special day with expressive arts workshops from a local theatre group and language lessons where they translated English phrases to Pirate speak. As part of our topic, the children are learning why pirates suffered with scurvy and how we can stay fit and healthy. We are also learning to use descriptive and persuasive language to apply for the role of Pirate of the Year. Results coming soon...
In Geography, we are learning to locate and name the continents and oceans. The children have used a variety of websites, including Google Earth, and played puzzles and games (including a Twister style game) to practise finding them.
Exeter Trip
The Year 2 children enjoyed a train trip to Exeter to visit the Royal Albert Memorial Museum and Exeter Cathedral. We wanted to visit the RAMM to learn more about our Polar topic. They explored and answered questions to learn about polar bears, penguins and Inuits. We were very excited to see the skeleton of Robert Falcon Scott's dog - the dog who had accompanied him on the Terra Nova to Antarctica!
After lunch, we visited the Cathedral as part of our RE topic on special places. Here are just a few of the things we saw...
Polar Day
This week we enjoyed Polar Day - a day of learning all about the Poles. In science, the children were working scientifically to make predictions about what would happen to ice cubes in different places around the school. They learned about the freezing and boiling points of water and were able to reflect on their results to change their ideas.
The children also learned about life in Antarctica for explorers and wrote a description of a polar setting.
They enjoyed ice poles, dressing up and some fun penguin songs!
Christmas Production
We've spent the Autumn Term learning about Roald Dahl so it seemed fitting to put on a Pilton Infants' production of Charlie and the Chocolate Factory. Here are some of the pictures:
Syria Appeal
Over the past few weeks, Mrs Ruddick has been collecting donations of items for the "Bags of Love" appeal. These are kit bags full of fun things for children who are in hospital in Aleppo, Syria. Many children are stuck in hospital with no loved ones to keep them company and nothing to play with. Year 2 agreed this would be really miserable and decided to start collecting...
The children, parents and staff all donated generously and we were able to fill 32 bags! A special mention goes to Millie, who donated a huge bag full of her soft toys, and Alfie, who donated a massive bag of Lego. Thank you all for your generosity!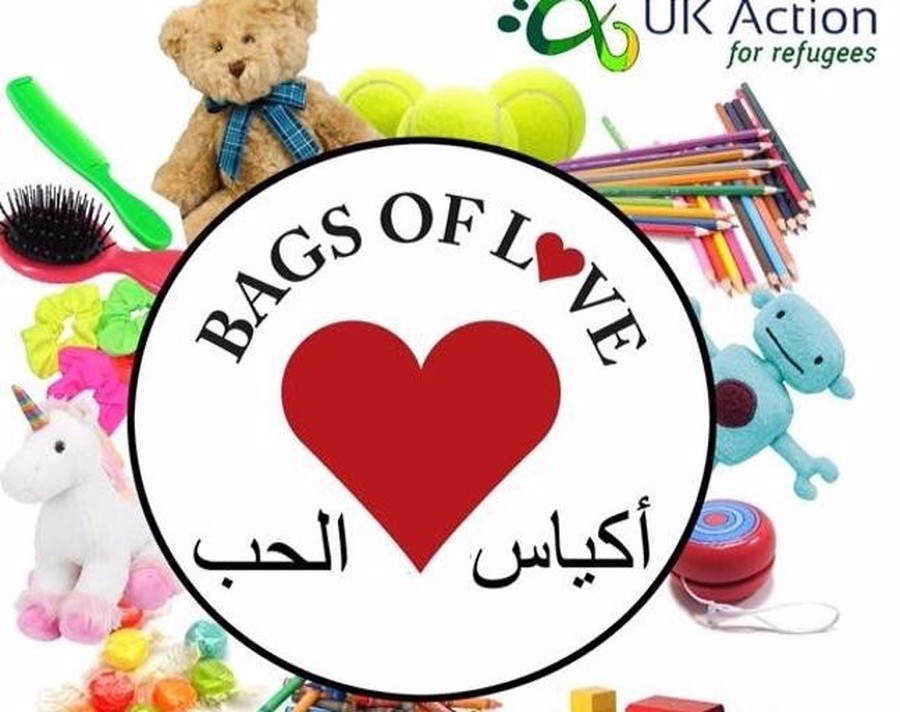 Something fishy's going on!
This week, we started learning the story of The Twits. The stinky characters turned up in class and we designed our own beards. We had a lesson of feeling and smelling various yucky foods and learned to generate synonyms to describe these things in different ways. Here are some pictures of our finished beards and the horrible things we felt and smelled!
Roald Dahl Day
We celebrated the 100th anniversary of Roald Dahl's birthday with a dressing up day. The children dressed up as characters and we learned about the life of the famous author.
We started with the question, "What was so special about Roald Dahl's nose?" and enjoyed excerpts from Boy and Going Solo (Dahl's autobiographies) to find out more. The children used historical sources such as photographs to order events in chronological order.
It was a really fun day!
Year 2 Leavers' Show
We've sadly come to the end of another year at Pilton Infants'.
To celebrate all the children's achievements we put on a show full on songs, dances and poems, looking back at all their favourite moments during their time at the school (see Chocolate Cake below). We were so proud of their performance, what an amazing group of children they are!
We will really miss them and wish them all the best as they move on to their new school!
Chocolate Cake
As part of our Year 2 Leavers show some of the children performed one of our favourite poems: Chocolate Cake by Michael Rosen.
Here they are, after the shows had finished, a bit giddy because it was their last day at Pilton Infants'. We are sure it will make you smile!
Science Week - health and well being.
We had a visit from a microbiologist who taught us all about microbes. We looked at a sneeze in slow motion online and then we used green glitter as germs or microbes and saw how easily they spread and how difficult they were to wash off! We practised washing our hands properly!
We looked at the effects of different drinks on teeth with an investigation using eggs and learned about healthy eating.
Gardening Week
For a whole week the Year 2s explored the school garden. They learned to find and identify animals on the school grounds, weed and tidy up the garden, work collaboratively to make Andy Goldsworthy style art and miniature gardens, make bird scarers and design and decorate the fence outside Class 6. Here are just a few pictures of our week:
Naughty Bus
Some of the children have been learning about the Naughty Bus by Jan Oke. As part of this, they visited Barnstaple Bus Station and caught the bus back to Pilton. Here they are buying their tickets and travelling back to school.
Musical Magic!
Mrs Barrow comes into school to teach violin and piano. Today some of her students in Year 2 played to their class. We were really impressed to hear some lovely music and the children even performed extra tunes after shouts of 'encore' from their classmates. Congratulations on your first concert!
Dunster Castle
Year 2 visited Dunster Castle as part of our topic. They had a tour of the castle, learned about the story of the Dunster dragon and tried hobby horse jousting!
The children had to write letters before they went, to try and persuade the Luttrell family of Dunster to allow them to become knights for the day. They were very persuasive!
World Book Day.
The children and staff came to school dressed as characters from books. The children in class 6 worked together to create their own Oxford Reading Tree books for the competition celebrating 30 years of Biff, Chip and Kipper. In class 3, the children spent the morning performing drama pieces based on Maurice Sendak's Where the Wild Things Are.
Barnstaple History Tour
As part of our topic on Knights and Dragons we wanted to learn about the history of our local area. Our local town crier, Tom Evans, took us on a tour around the site of the old walls and castle. We were amazed to find that it was William the Conqueror who ordered the castle to be built! We even saw part of the old South Gate, inside Youings, which is 1000 years old! After that, we had fun using a map of old Barnstaple to locate the places we'd visited. See below for some of the things we saw:
Zoo Visit
As part of our topic entitled "Are dragons real?" we have been investigating habitats and locating places around the world to compare and contrast places where people and animals live. Today we visited Exmoor Zoo where the children looked at the information about each animal and worked as a team to locate those places on their world map. We then used this to discuss why animals lived in those areas. We found lots of cold-blooded animals huddled under lamps while other animals from warmer countries (such as the cheetahs) didn't seem to mind the chilly Exmoor breeze!
The children used the ipads to capture photos of the things we saw.
We had a great talk on the history of dragons and how this links to reptiles from around the world. Here are some pictures from the day:
Spring 2016 - This term our topic is Myths and Legends - Are Dragons Real?
Read more details in our topic newsletter below:
**************************************SPACE DAY!******************************************
We couldn't take the children to space, so space came to Pilton Infants' today!
The children and staff all came dressed up, we learned a cool rap about the sun, learned
about space travelers from history and made rockets. Here are some pictures:
Space Science
What a week we've had in Year 2.
First of all we had a challenge to try and get our astronaut, Dave, up into space. The children experimented with different bottles to find out ways to launch objects. They discovered that by squeezing the bottle hard, the air came out of the bottle and pushed the object into the air. Some bottles were better than others:
"The glass bottle was no good because you can't squeeze it and push the air out."
"I thought the bigger bottle might push the astronaut further because it has more air in it but the plastic was quite hard so we couldn't push it very hard."
We had a visit from an astrophysicist from Exeter University who taught us all about the space suits that astronauts wear. The children carried out an investigation into modern nappies which NASA invented. They found that a teaspoon of granules in a nappy can fill a whole bowl of liquid filled jelly. "It felt cold and wet but when you stuck your finger in it, it came out dry!"
Finally, we had a visit from Space Odyssey who brought the Planetarium dome into school. We learned about the Phases of the Moon and the features of different planets. Here are some photos of our week...
NASA CRASH LANDING ON SCHOOL SITE!
Did you hear a crash over the weekend? Well, we know what made the terrific booming noise - it was a piece of space junk hitting our school field!
The army came today to take a piece away for testing but so far the children have worked out that it comes from NASA. Hamish has worked out that it must be from space "because you can see the bits where it burned when it came into our atmosphere."
Watch this space for more updates...
Little Visitors
This week we had some little visitors in school, helping the Year 2s research pets for their non-fiction work. Meet William the tortoise and Snuffles and Smoothie the guinea pigs. Check out our really brave children who held a Corn Snake or Royal Python!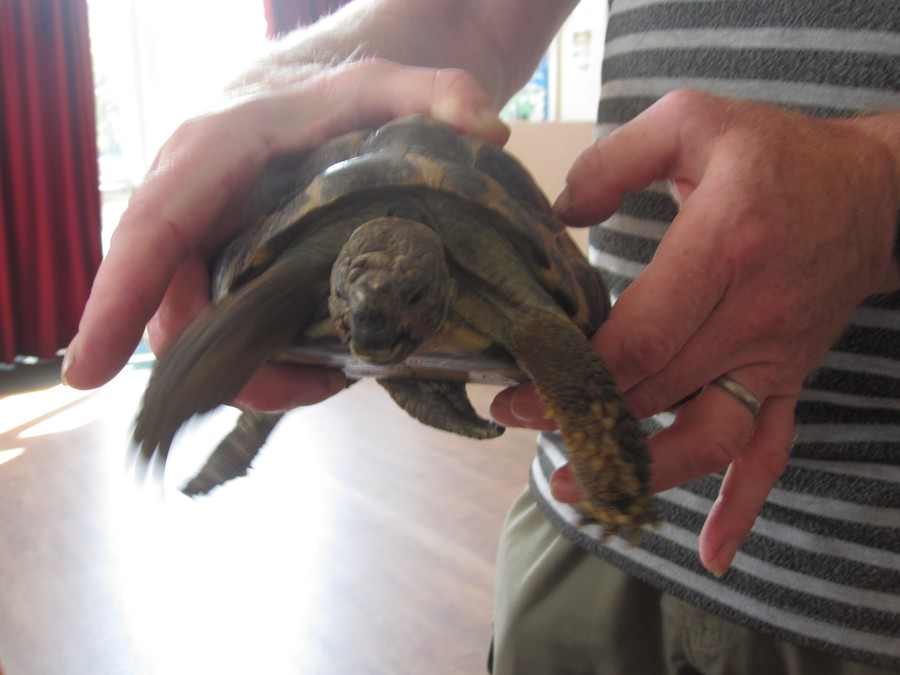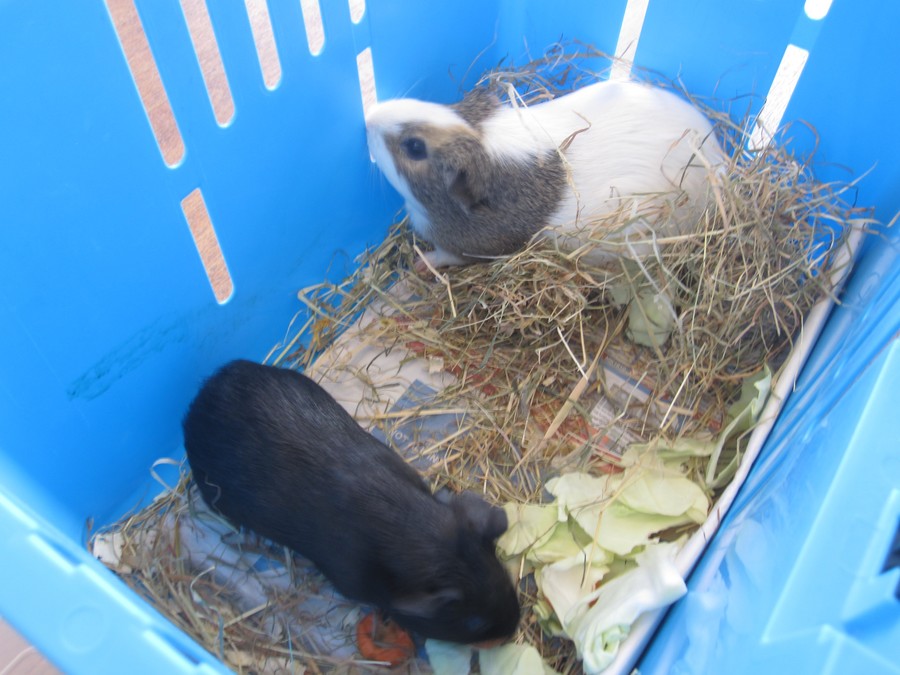 ACTIVE TRAVEL BREAKFAST
As part of our work with SUSTRANS to promote active travel, we held an active travel breakfast on Thursday 16th July. All children that walked, cycled or scooted to school enjoyed a free healthy breakfast. As well as this, SUSTRANS also provided the school with two brand new scooter pods to help the children store their scooters. Fancy dress was encouraged, and we were very pleased to have Councillor Brian Greenslade attend. Well done to the large number of children and their parents who travelled actively!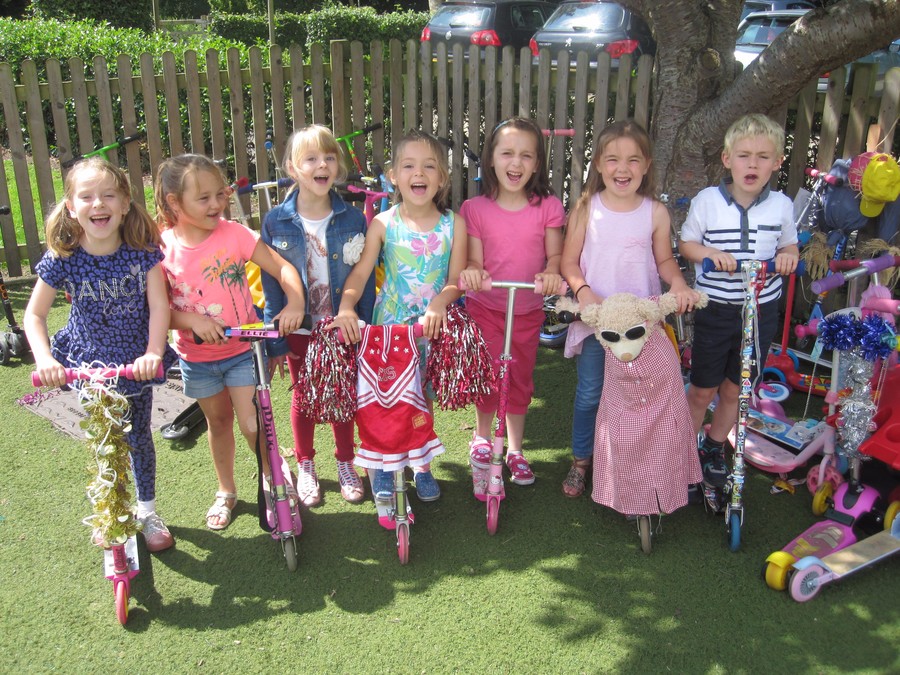 Did you see us in the North Devon Journal?
Following a great campaign from our Year 2s against the landfill site (see planning notice below) we managed to persuade our MP not to back it. The site will no longer go ahead and the school field is finally safe! Here are some pictures of the children sharing their campaign with Mr Heaton-Jones on his visit to the school.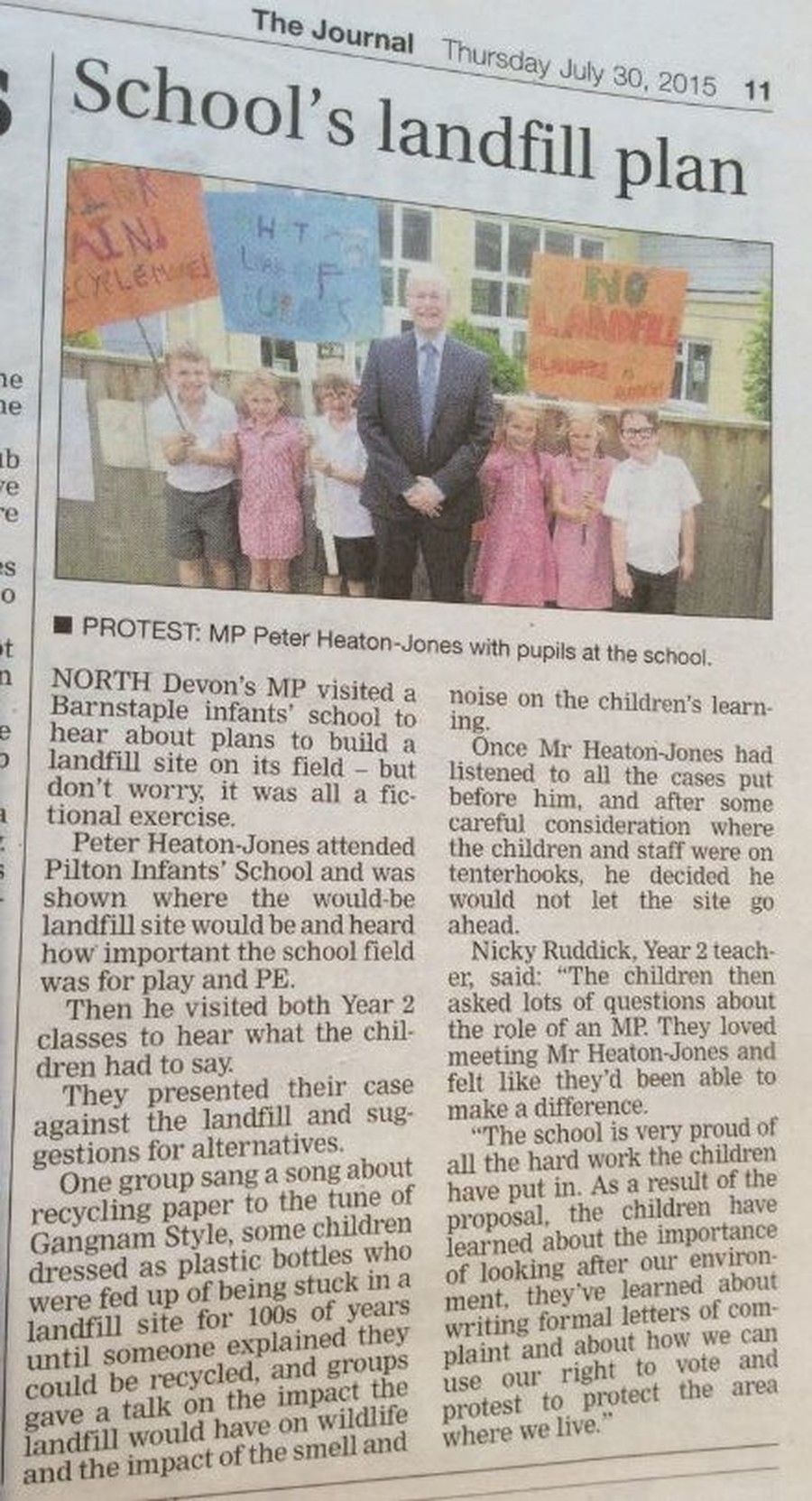 Our Year 2s have been learning to write formal letters of complaint. They wrote to Mr Heaton-Jones expressing their objections and proposing alternatives. Here are some of the things they wrote:
"Dear Mr Heaton-Jones,
I am a student from Pilton Infants and I have heard that there is going to be a landfill..." Sophie.
"I am writing to complain about the dirty landfill in the school, for the following reasons." Sebastian
"For example, the smell will attract rats, seagulls and foxes. The seagulls will make so much noise it will distract us in our classrooms. If foxes come, children might get spooked and they will cry." Liv
"And what about the animals? The birds, owls and hedgehogs will lose their homes and might die!" Oli
"Furthermore, it will really smell so children will have to hold their noses at playtime. They might find it hard to breathe and what if they die?" Summer
"I have an idea... If we recycled more we might not need a landfill. In our school we recycle paper and card. Can you please make everyone recycle? You could make it a law!" Evie
"I look forward to talking to you on Friday.
Yours sincerely,
Max."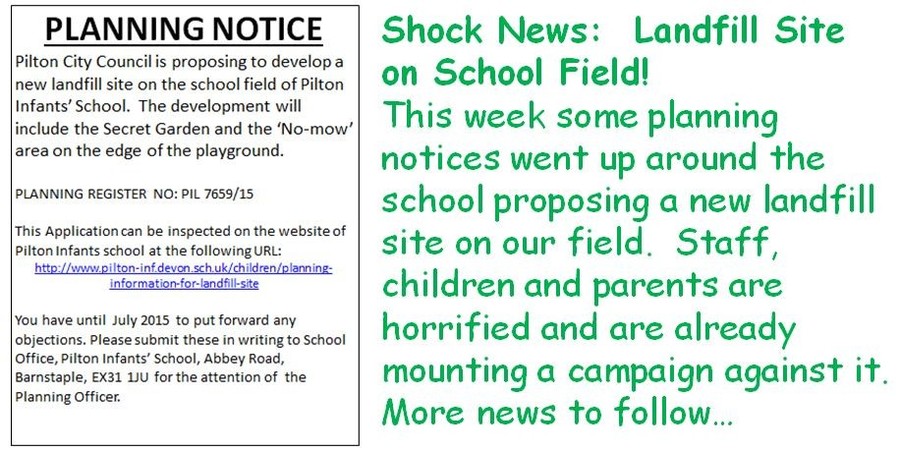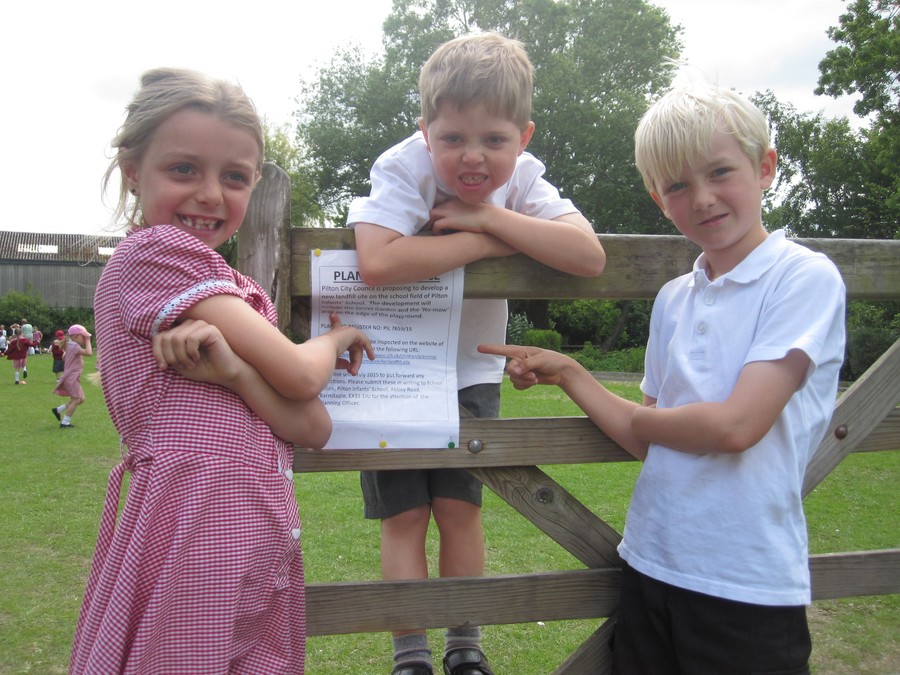 Here are some of the reactions from some of our Year 2 children:
"It will stink the school out!" - Alannah.
"Animals will get hurt or might die!" - Billy.
"I'm going to talk to my Dad. He's a farmer and he might let the council build the landfill site on his farm instead." - Louis.
We've also had some very cross children from the other Year groups. This little girl in Reception wrote her own protest poster: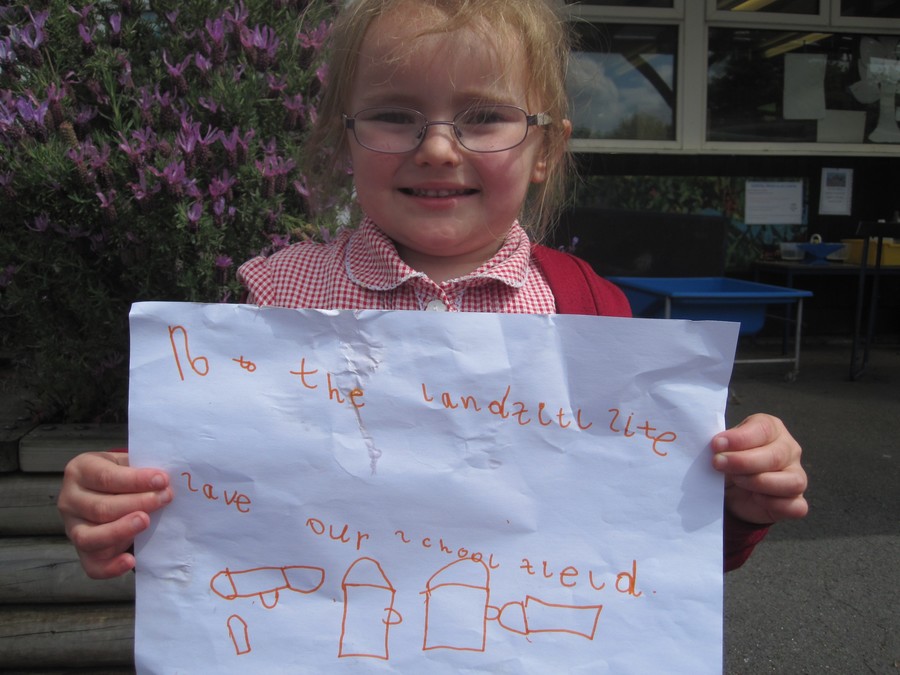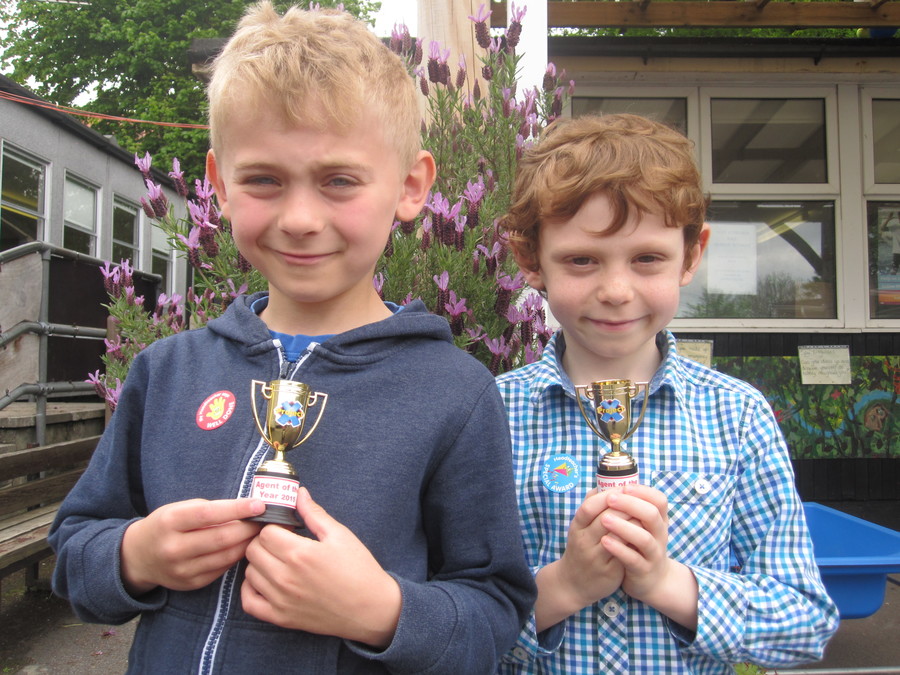 500 words update.
A few weeks ago we reported that some of our Year 2's had entered the BBC's 500 words competition. Congratulations to Summer who made it through to the second round. We all enjoyed listening to your story at home time!
Spy Day
This term we are learning about the environment. We've been enjoying our new Project X books all about the computer called Code which is trying to shrink everyone on Earth to save resources.
We all became secret agents to try and defeat Code. We received a message to say Evil Lord Bite had kidnapped Mrs Sanders and unless she was found and freed there would be no school dinners for Year 2!
The children worked together throughout the morning to crack codes, solve clues and follow the trail to
the PE cupboard where we freed Mrs Sanders just in time.
In the afternoon we made our own gadget watches like the Team X agents in the books.
Can you spot any of Year 2 through their disguises?
Arlington Adventure!
We enjoyed a visit to Arlington Court to learn how to create and follow a spy trail. We honed our team work skills when we worked together to make dens (some with fir carpets, slate floors and even a toilet!). In the afternoon, we put all this together to follow a spy trail, solve clues and save a fellow Agent who had been kidnapped by Evil Dr Worm!
We ended having a very muddy play by the stream at the end of the afternoon and came back to school tired but very proud of ourselves! Bear Grylls eat your heart out!
Writing Club
This year we ran a club for Year 2 children who wanted to enter the BBC 500 words competition. We had lots of children in the club who enjoyed sharing their writing. Here are the children that entered online (dressed up for Comic Relief). We look forward to sharing their work with the rest of the children and watching keenly for the competition results!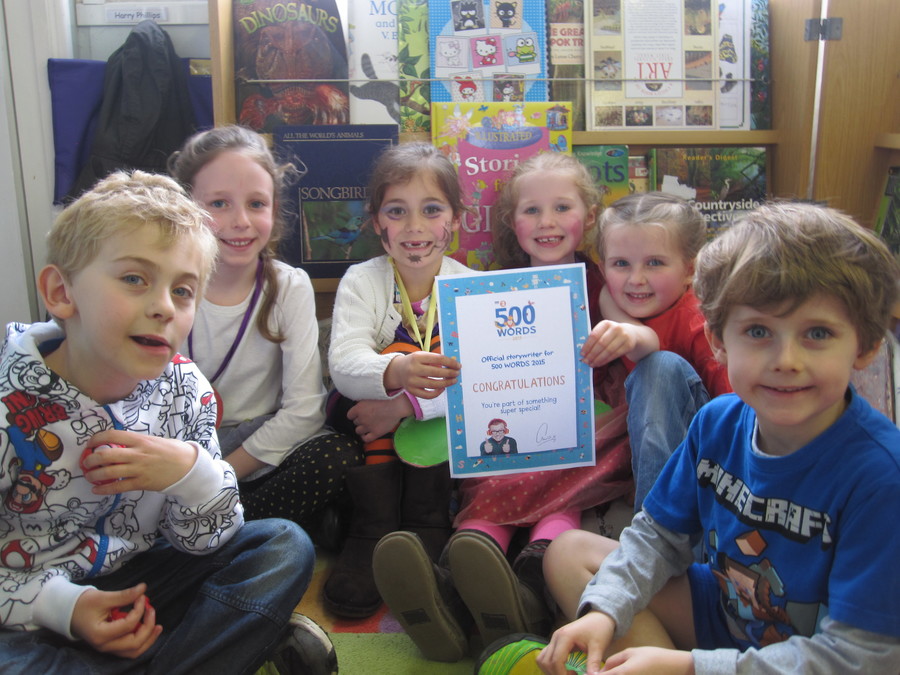 Build-a-Bear!
Year 2 recently took a trip to Exeter, to visit the Build-a-Bear workshop. We wanted to have a go at making our own toys as we've been learning about toys in the past and found that families often made toys themselves.
Here are some pictures of our day out and our photo-shoot when we got back to school!
Toys in the Past
We had a visit from the man from Barnstaple Museum, who brought lots of old toys for us to explore. We learned about the different materials that were used in the past compared to now.
Below are some pictures of the visit as well as some dolly peg toys we designed and made. We also learned to play old games such as marbles and hopscotch.
Some of the comments from the children were interesting:
"In the past children played together more. Now children play on their own. I like the old toys best."
"In the olden days the children didn't have electricity so they had to make up their own games."
Penguin Day in Year 2
As part of our topic this term on Explorers we asked the question "Why don't penguins freeze?" We had a penguin day where we learned songs, wrote Kennings poems and explored how humans and penguins keep warm. We've been watching March of the Penguins and have been amazed by how hardy these animals are. We decided to try being a penguin for the afternoon: huddle for warmth and look after our eggs. Here are some pictures!
The Day the Crayons Quit!
We read The Day the Crayons Quit by Drew Daywalt and illustrated by Oliver Jeffers. Then we learned about different ways of complaining and the types of language used. Here we are acting out some of the crayon's complaints! Those crayons were VERY grumpy!
Where in the world...?
We had a team work challenge to try and complete puzzles with pictures of maps. Then we used them to learn the names of the continents and find out where we are in the world compared to the Antarctic.
Book sculptures
We loved the beautiful illustrations in this book by Su Blackwell...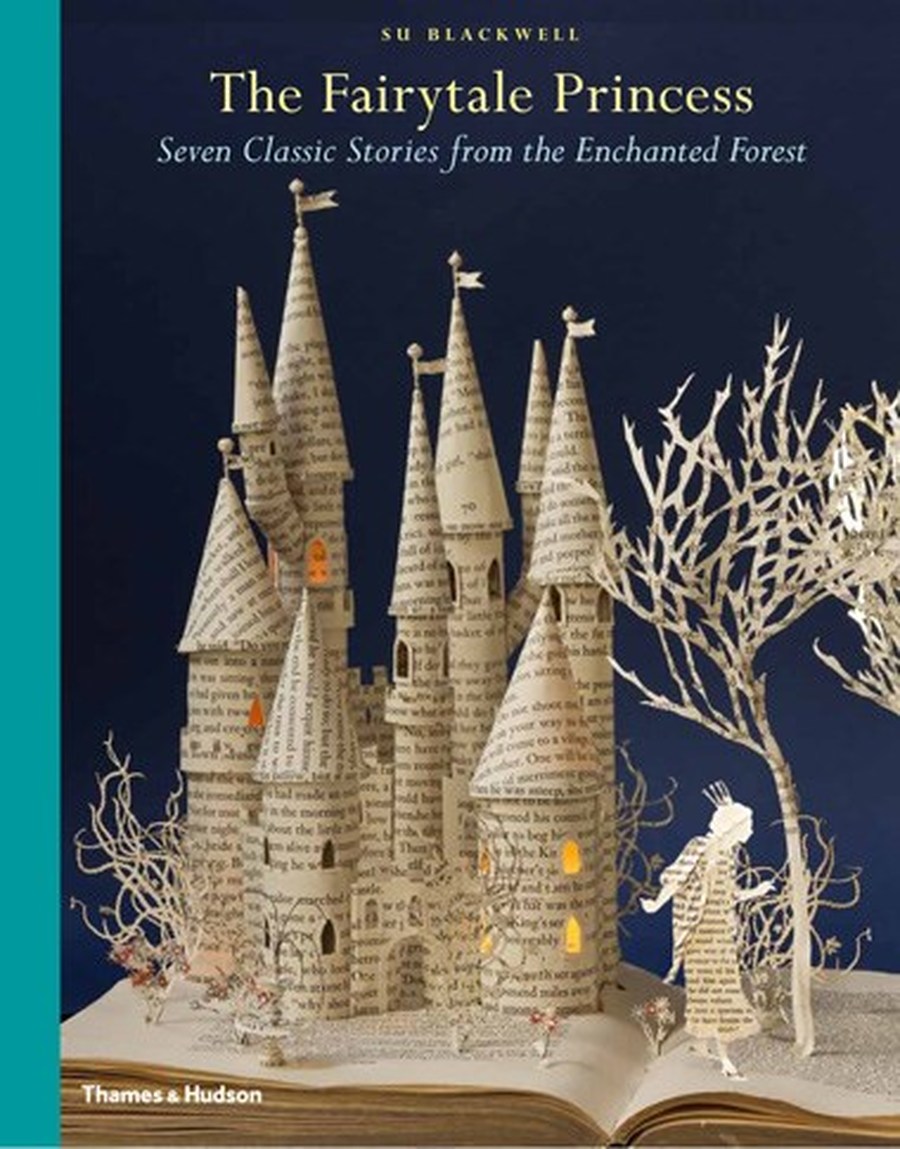 ...so we decided to make our own.
The children worked in teams of three to create the sculptures. Their challenge was to improve their teamwork skills and their art skills. We contacted Su Blackwell who emailed back to say she was very impressed with the outcomes!
During out Traditional tales topic we made gingerbread men but one escaped. We found these CCTV pictures of him but he never returned. If you see him please contact the school office.
PTFA Film
This term some of the Year 2 children have been learning about adverts and different ways they persuade you to buy products. We used what we had learned to make a video about the PTFA. Click on the link below to find out more. We hope when you watch it you will come and support the school's PTFA...
http://www.youtube.com/watch?v=dnk3x98EzLA&feature=youtu.be