This week, our learning is around the book The Disgusting Sandwich!
English week commencing June 1st
Lesson 1 - Introducing The Disgusting Sandwich
Watch the story here: https://youtu.be/5MVwp9at9G4
Always supervise children when using the internet.
Look at the story map below – you can print or draw your own. Can you draw the route around the map that the sandwich (and badger) take? Draw on the other people and animals that touch the sandwich. Try and say the story in your own words.
English - Lesson 2 - Understanding expanded noun phrases
Warm up – how many adjectives can you think of that have the same or similar meaning to 'disgusting'? How many can you think of that mean 'yummy'? Keep these ideas as you might need them later in the week.
Listen to the story again or follow the story map you made. Add in 10 nouns from the story – can you think of expanded noun phrases? See the examples below:
English - Lesson 3
Draw 2 pictures - the most disgusting you can think of and the best sandwiches you can think of – label the ingredients. See the examples below:
English Lesson 3 continued...
Look at the following description – what's wrong with it?
My disgusting sandwich is made with stale, mouldy, smelly, stinky bread. It has yucky, disgusting, horrible corned
beef and slimy, slippy, bitter, sour gerkins. Under that are stinky, smelly, yucky anchovies and horrible, disgusting,
yucky jam.
You should only use one or two adjectives to describe each ingredient. You can see that lots of the ones used in this piece have the same meaning. For example, do you need smelly and stinky in the same description when they mean the same thing? Bitter and sour also have similar meanings. Horrible, disgusting and yucky all mean the same and have been used more than once. Can you re-write the description, taking out the words you don't need and avoiding repetition? If you can think of better words to use, write those instead.
Now try add your own adjectives to your noun phrases and write a description of each sandwich. Challenge – use commas in a list in your description. See the example picture and text below:
Example description:
My mouth watering sandwich is made with fresh, granary bread. Inside, there's a slice of extra strong cheddar cheese with tangy marmite spread over it. This is served with juicy tomatoes, refreshing cucumber slices and crunchy ready-salted crisps!
English Lesson 4
Watch the story again and look at the setting (where the story takes place). What's the weather like? What can you see in the park? What time of year do you think it is?
Write a description of the park and the things inside it.
Challenge – change the adjectives you choose in your noun phrases to make it sound like an awful park!
Spelling June 2020
Use this time to learn the Year 2 words (Year 1 words below too for those that need them). They are in alphabetical order, so spend some time finding a word that your grown up says from the card. To practise spelling:
Look for the tricky bits that might catch you out - how can you remember those parts?
Try writing them as many times as you can in a minute and then repeat, trying to beat your total. The more times you spell it correctly, the easier it will be to remember them.
Try putting them into sentences.
Maths week commencing 1.06.20
Hope everyone had a great half-term. This week's maths is some more on 2D shapes and some Number Tumbler to keep our addition skills nice and quick.
Step 1 - Rectangles
Step 2 - Symmetry
Step 3 - Sorting shapes
Step 4 - Number Tumbler
PSHE week commencing 1.6.20
Well being Craft Activity - Things to look forward to jar.
Have a go at making your own wellbeing jar.
Feelings Cloud - How am I feeling?
Colour a raindrop each day to show how you're feeling. Inside the cloud you could write a word that describes how you feel or a reason why you feel this way. Record the good and bad, it's ok not to be ok.
Designing a Poster with bubble writing.
In school, we will be making posters about how to stay safe. For example, about hand washing and not mixing with other classes.
If you are at home, you can make a poster about anything you want -there are examples on the film below. You will need: paper, felt pens, pencil, ruler (or something with a straight edge) and a rubber. See below for tips on how to make a poster with bubble writing. Don't worry if it goes wrong the first time, you can see some that Mrs Ruddick messed up before she got it right!
Always supervise children when using the internet.
Science week commencing 1.6.20
Healthy Living
Look at the presentation.
Can you plan a healthy meal? You could use any craft items you may have at home or coloured pencils to make a picture of your healthy dish.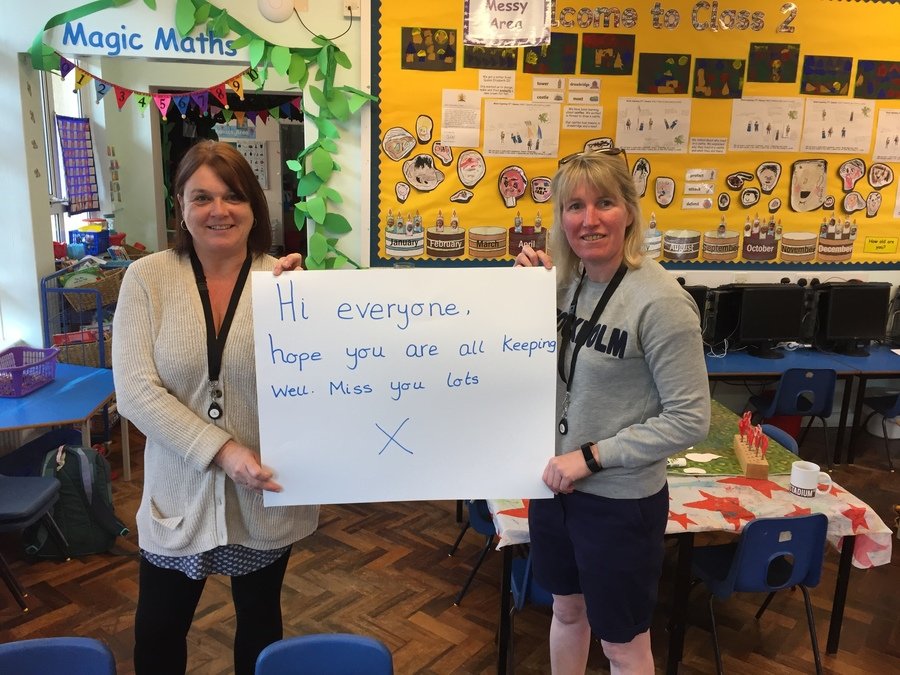 Reading - Please continue to read with your child daily. This could be them reading to you or you reading to them. Sign up to www.oxfordowl.co.uk for free to access free e-books.
Other activities to do while you're at home:
Play board games - if you don't have any, make up your own.
Share stories - register with Oxford Owl for access to free e-books.
Watch the weather forecast - can you find Barnstaple on the map of the UK?